About Us
A place that makes authentic cider people haven't had before. A place that makes everyone feel welcome and safe as soon as they step in the door. A place that's a living love letter to Dartmouth. That's what came into view when we first pictured what we wanted Lake City Cider to be. 
And that's exactly what we've created. With an honest, transparent approach to making awesome ciders, we connect our guests with local suppliers that make our flavours possible—like crisp apples from Sterling and wild blueberries from Oxford, NS. We don't do what's easy or expected. We do what feels right, and what works for our fans, friends, and extended Dartmouth family.

Making Waves
We take part and take pride in our community. We're always looking for ways to say thank you, show our love, and lift up.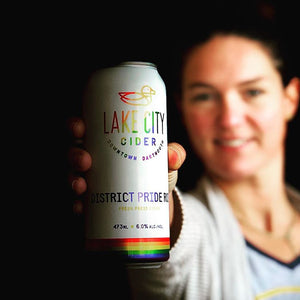 Halifax Pride
As the official cider of Halifax Pride, we wanted to do more than put our name on a banner, so we created District Pride Rosé—a cider that celebrates the LGBTQ+ community in style. Look for it again June 2023!
Dartmouth North End Community Food Centre
When you see places doing amazing work, you can't help but lend a hand. We take time throughout the year to support this incredible centre that gives those in need access to healthy food and a place to learn, connect, share and grow.
Give Back Friday
Fridays are for raising a glass and giving back! On select Fridays, we collect a portion of our cider sales and donate the proceeds to help the community that helps us realize our vision every day.