Taproom Menu
All ciders on tap available in 16oz, 13oz and 10oz pours.
Also available as part of a cider flight (4 ciders of your choice)
Darkside Dry
7.5% ABV - Our Darkside Dry is made from 100% Nova Scotian apples. This unapologetically dry cider drinks between a dry white wine and a cider.
Darkside Rosé
7.5% ABV - A delicious blend of our Darkside Dry, house made black currant wine and a touch of NS honey.
Crisp Apple
6.0% ABV - A crisp and clean cider fashioned from a special selection of freshly-pressed Nova Scotian apples. District 5 boasts a taste as familiar and vibrant as the area its named after.
Strawberry Redhead
8.5% ABV. A blend of our signature crisp apple cider as a house made strawberry wine.
Non-Alcoholic Cider
0.4% ABV. Our first non-alcoholic cider made with 100% Nova Scotian apples. Light and crisp.
Field of Dreams
8.5% ABV. This cider is a blend of our signature apple cider along with a housemade strawberry wine, a housemade black currant wine, as well as a touch of vanilla. Finishes fruity and semi-sweet.
Lake City Lager
5.0% ABV. This lager is made in collaboration with our friends at Burnside Brewing. It is a crisp and refreshing light beer.
Raspberry
6.0% ABV. A blend of our signature crisp apple cider and a house made raspberry wine - finishes semi-dry
Cider Cocktails/Specialty Drinks
Rosé Sangria
Darkside Rosé Cider, Watermelon Juice, Grapefruit Soda & Club Soda. Served on Ice and Garnished with a Lemon wedge and Grapefruit slice.
Red Sangria
California Love Cider, Raspberry Lemonade, Orange Juice & Watermelon Juice. Topped off with Club Soda and Garnished with an Orange and Lemon Slice. Served on Ice.
Raspberry Lemonade
Raspberry Cider, Raspberry Lemonade, Pomegranate Juice, and Club Soda. Served on ice and garnished with raspberries and lemon.
Cider Mimosa
Choose from 4 different flavours: Orange, Grapefruit, Watermelon & Raspberry
Cider Mimosa Flight
Includes 4 different flavours: Orange, Grapefruit, Watermelon & Raspberry
Non-Alcoholic Cider
0.4% ABV. We have 2 options available - Crisp Apple or Cranberry
Kombucha
Dartmouth's own Pop Culture Kombucha. Current flavours - Ginger, Blueberry & Raspberry
Sparkling Water
AHA Sparkling Water - Current Flavours: Lime & Watermelon, Orange & Grapefruit, Pineapple & Passionfruit, Blueberry & Pomegranate, Raspberry & Acai
Sanpellegrino Limonata & Aranciata
Sanpellegrino Limonata is the authentic, lemon drink with all natural ingredients from Italy. The Aranciata is made from 100% natural ingredients with the juice of carefully selected Sicilian oranges.

Happy Hour - All Pints $5
Every Monday, Tuesday & Wednesday from 4-6pm any on tap cider, any size is only $5.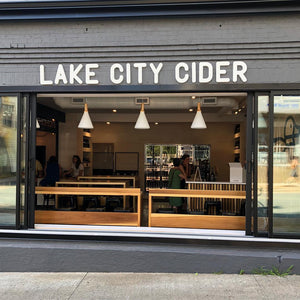 Come Get Cozy
Come in and spend some time sampling our many delicious cider taps or grab some cans and bottles to go. We also offer non-alcoholic options. We do not have a food menu, but we highly recommend ordering food and bringing it to the taproom. Our top picks are The Canteen, Side Hustle, Battery Park & Humble Pie!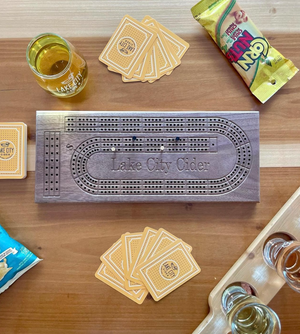 It's all fun & Games
We have over a dozen card and board games for you to choose from while you are visiting us in the taproom! We have Jenga, Cribbage, Scrabble, Battleship and SO many more! So come grab a pint or flight with your pals and settle in for some fun!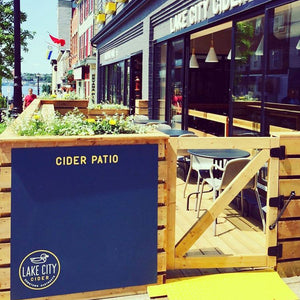 Fun in the sun
During Nova Scotia's warm summer months, we are thrilled to have our cider patio open to our valued guests! From the patio, you can get a view of the Halifax Harbour to see the ferry coming and going as well as all of the passersby on Portland Street. So come soak up the sun with your favourite pint of cider!